This sport was first introduced in the island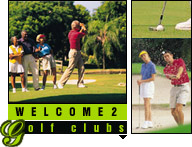 by Americans that started to settle in Cuba in the threshold of the 20 th century. The first courses, which had different characteristics, appeared between 1910 and 1920.
It would be fair to acknowledge that the practice of golf in Cuba has never reached high levels of participation. Before January 1 st, 1959 , it was one of the sports practiced by the highest classes of the Cuban society.
The golf courses in Cuba were not only located in the capital. There were some nine-hole, six-hole or even three-hole courses located mostly near sugar mills owned by American companies.
Two of the best courses were located to the west of Havana . One was placed in the exclusive Habana Biltmore Club and another on the site where the National Art School was built in the 1960's. According to active golf players, there was a golf course situated in a zone known as Colinas de Villareal, up Guanabo beach in eastern Havana , which had excellent conditions and was the only 18-hole course built in the 1950's.
The only golf course that has made it until our days is that of the Havana Golf Club at Capdevila, in Havana . This course has had nine holes since its inauguration.
To the aim of satisfying the ever-growing demands of international tourism, there are several projects for new golf facilities. According to the plans, the first new courses will be located in the outskirts of Havana and Santiago de Cuba , as well as in Varadero and Cayo Coco, places where the number of visitors has been increasing considerably.